You are here
MUSIC CITY CENTER CELEBRATES 10 YEARS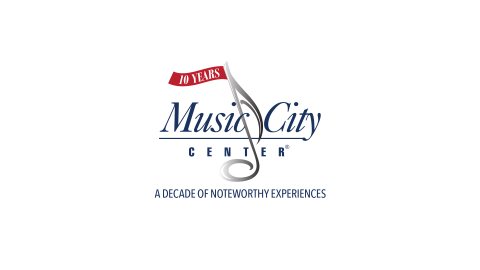 NASHVILLE, Tenn. – Music City Center celebrates its 10th anniversary this weekend. Nashville's convention center opened its doors to the public for a preview of the newly built facility on May 19, 2013, with an official ribbon cutting and grand opening held on May 20, 2013. The anniversary date marks 10 years of fulfilling its mission to serve the community by attracting local and national events
In the last 10 years, Music City Center hosted 2,335 events, including 462 local nonprofit events, with an attendance record of 4.4 million people. That equates to $3.3 billion in direct economic impact for the greater Nashville region.
"It's been a privilege to serve this community in this capacity for 10 years," said Music City Center President and Chief Executive Officer Charles Starks, who has been with the city's convention center since 2005. "We're extremely grateful for the support of our customers, partners, and the people of Nashville."
Over the years, the facility and its team have remained focused on providing exceptional customer service. Day-to-day operations are guided by a commitment to several initiatives including sustainability and diversity. The facility also boasts the most Food & Beverage sales per square foot than any other convention center in the country. Currently, groups are contracted through 2033 and proposals have been obtained through 2043.
"We have surpassed even our own expectations with more groups wanting to book today and into the future than we have space available," Starks added. "We're excited to see what the next 10 years will bring."
Music City Center will celebrate its anniversary throughout the year with both internal and external fanfare. To commemorate the official anniversary date, a video was produced in-house featuring several team members who have been with the facility since its inception. To view the video, click the playback below or visit the Music City Center YouTube channel at https://youtu.be/2QcQjKwVFQs. Follow Music City Center on social media for updates on anniversary facts and events.
About Music City Center
Located in the heart of downtown Nashville, Music City Center is a 2.1 million square foot convention center with more than 353,000 square feet of exhibit hall space, two ballrooms, 55 meeting rooms, and a covered parking garage with 1,800 spaces. The mission of MCC is to create significant economic benefit for the greater Nashville area, while focusing on community inclusion, sustainability, and exceptional customer service, through conventions, trade shows, and community events.
###